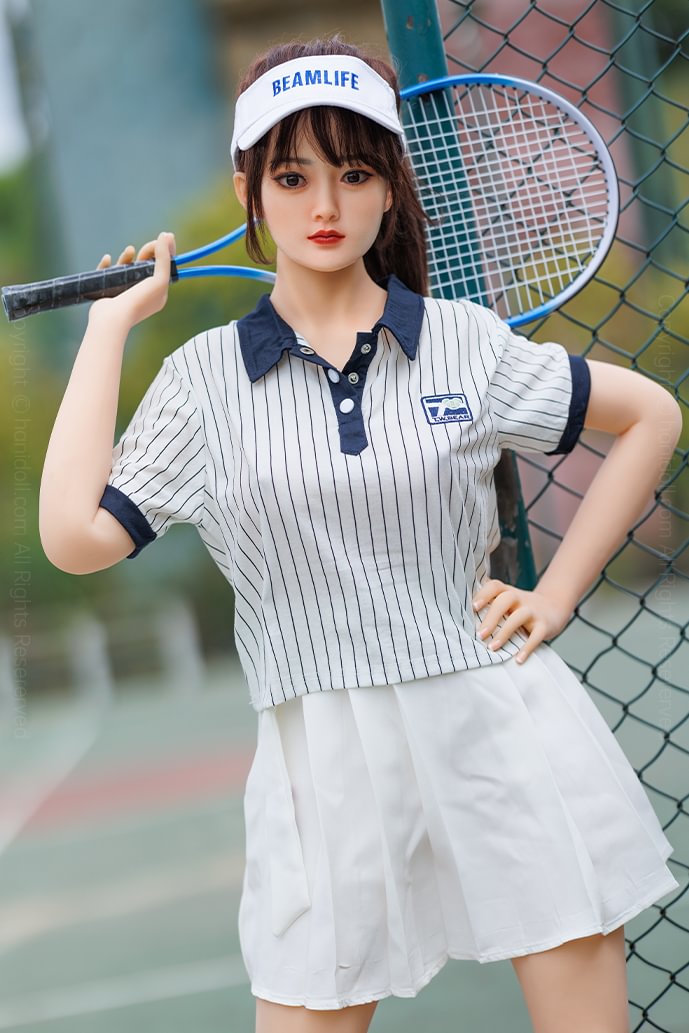 VIDEO SHOW:
STORIES:
Aimee and you look at each other, actually feel the skin gradually hot up, mouth is also getting thirsty, she suddenly feel the inner thighs slippery and greasy, only to realize that she is wet.Aimee's left hand unconsciously lifted her skirt and reached for the wet nectar, gently kneading the two pink flesh. The right hand was stroking her buttocks through the skirt, and a small gasp escaped from her throat.
STYLES:
Aimee's middle finger has been inserted into the pussy at some point, stirring up hard, and she increases the power every time she thinks of you your ambiguous eyes. The lower body is not blocked by panties, the lustful water flowing down unrestrainedly in strands, the thighs look smoother and more delicate under the sunlight. The hand that she stimulates her sensitive place is gradually not like her own, she feels in a trance is your hand in and out of their private parts, playing with their own buttocks.
PARAMETERS:
Item number: H3716
Specification: 166 Small Breasts
| | |
| --- | --- |
| Vaginal Depth | 7.28in (18.5cm) |
| Anal Depth | 6.1in (15.5cm) |
| Oral Depth | 6.1in (15.5cm) |
| Height | 65.35in (166cm) |
| Weight | 83.78lbs (38kg) |
| Bust | 28.35in (72cm) |
| Waist | 21.65in (55cm) |
| Hip | 35.04in (89cm) |
| Package Weight | 98.99lbs (44.9kg) |
| Package Size | 61.4×16.5×11.8in (156×42×30cm) |
Free gifts:
Lingerie (random style) * 1, Wig * 1, Blanket * 1, Comb * 1, Gloves * 1, Vaginal cleaner * 1, USB heating rod * 1
Note:
The clothes in the photos are NOT included in the package, we provide random style underwear.
Because this product is a kind of special product (cannot be resold after use), please check carefully after receiving the product. Once it is used, it will not be returned. If there is quality problem, we will be responsible for maintenance services.
The free warranty period of this product is one year. If the product is damaged within one year, we can repair it free of charge, but the freight is borne by the customer. Once it is used, it will not be returned or exchanged regardless of any reason (the standard of whether the product is used is the integrity of the product and whether there is unidentified liquid, water stains, stains, etc. left on the product's vagina.) Signing for receipt is deemed to have been confirmed by the signatory that the product is in good condition. If there are special reasons, please contact our customer service in time.
If the product cannot be repaired due to excessive use during the warranty period, our brand does not assume any responsibility. Material fracture due to improper use and normal loss are not quality issues. In addition, whether the product design plan meets the buyer's wishes is not a quality issue.
TPE products will have a slight smell, but no harmful gas. After being ventilated, it will fade away with time. Customers who care too much about the smell, please buy with caution. The smell problem is not a quality problem.
The sex doll (sound-heating model) is not a robot, it only has simple sound and heat functions and does not have other functions. Whether the sound is perfect is not a quality problem. The heating wires and heating switches are not the quality problems of the product itself. The silicone product is composed of two sets of molds combined, so even though the parting line has been processed almost perfectly, it is still faintly visible when you look closely. This is an unavoidable problem in the production process and is not a quality problem.