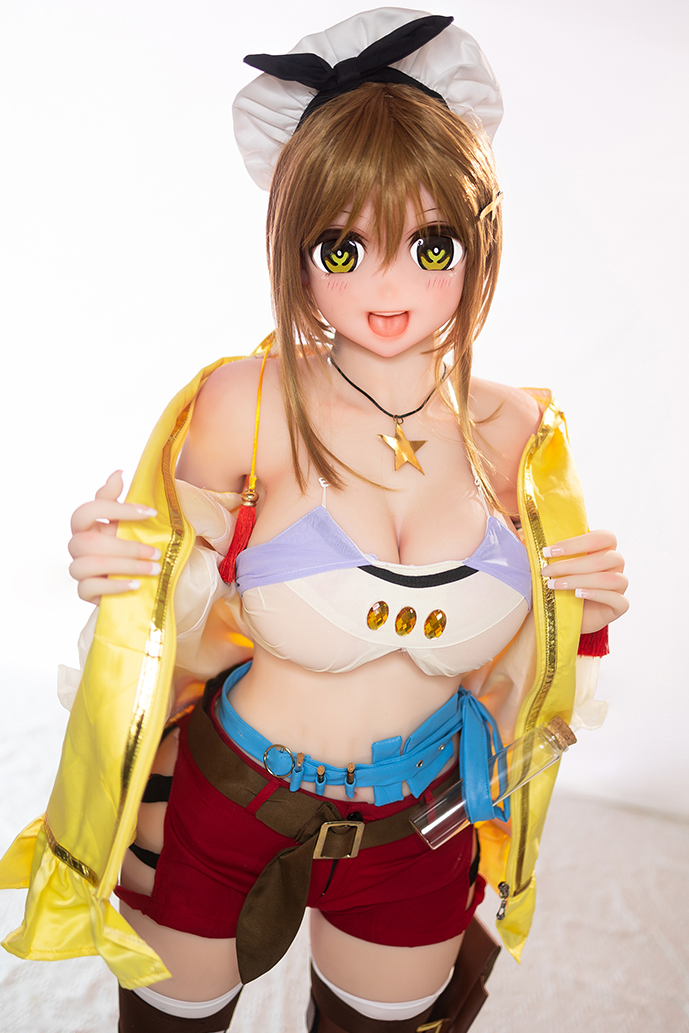 VIDEO SHOW:
STORIES:
Jocelyn's shirt is half undone, and the brightly colored fabric makes her breasts even whiter and more luscious, and with a flash of darkness, you squeeze her shoulders and sink down to spread her legs wider. Your fingertips feel at the base of the legs, rubbing the smooth skin there, and finally into the tiny canal, the flesh wall like a newborn bird's velvet smooth and soft, slightly wet, while stroking the pussy, your lips and tongue while kissing her slender belly, and then slide down to her white and greasy snow peaks, the two groups of tits slightly trembling, breast waves lightly, driving the two red plum blossoms floating and undulating, her stubborn body finally soft The two groups of breasts slightly trembled, the breast wave lightly, driving the two red plum blossoms floating, her stubborn body finally soft, obediently let you sex.
STYLES:
Under Jocelyn's shirt, two snowy breasts stand out playfully, with her panting, trembling slightly, the two buds are red, red haloed in all directions, sheepish breasts with a faint red pink, like two carved ripe peach. The peach below is a section of the glittering white belly, waist slim but tight and strong, pussy constantly spitting sweet nectar, stained the luxuriant grass.
PARAMETERS:
Item number: H3863
Specification: 158 Large Breasts
Vaginal Depth
7.09in (18cm)
Anal Depth
6.3in (16cm)
Oral Depth
5.12in (13cm)
Height

62.2

in (158cm)
Weight

89.28

lbs (40.5kg)
Bust

34.25

in (87cm)
Waist

23.42

in (59.5cm)
Hip

38.97

in (99cm)
Package Weight

105.82

lbs (48kg)
Package Size

59.05

×

16.92

×

12.99

in (150*43*33CM)
Free gifts:
Lingerie (random style) * 1, Wig * 1, Blanket * 1, Comb * 1, Gloves * 1, Vaginal cleaner * 1, USB heating rod * 1
Note:
The clothes in the photos are NOT included in the package, we provide random style underwear.
Because this product is a kind of special product (cannot be resold after use), please check carefully after receiving the product. Once it is used, it will not be returned. If there is quality problem, we will be responsible for maintenance services.
The free warranty period of this product is one year. If the product is damaged within one year, we can repair it free of charge, but the freight is borne by the customer. Once it is used, it will not be returned or exchanged regardless of any reason (the standard of whether the product is used is the integrity of the product and whether there is unidentified liquid, water stains, stains, etc. left on the product's vagina.) Signing for receipt is deemed to have been confirmed by the signatory that the product is in good condition. If there are special reasons, please contact our customer service in time.
If the product cannot be repaired due to excessive use during the warranty period, our brand does not assume any responsibility. Material fracture due to improper use and normal loss are not quality issues. In addition, whether the product design plan meets the buyer's wishes is not a quality issue.
TPE products will have a slight smell, but no harmful gas. After being ventilated, it will fade away with time. Customers who care too much about the smell, please buy with caution. The smell problem is not a quality problem.
The sex doll (sound-heating model) is not a robot, it only has simple sound and heat functions and does not have other functions. Whether the sound is perfect is not a quality problem. The heating wires and heating switches are not the quality problems of the product itself. The silicone product is composed of two sets of molds combined, so even though the parting line has been processed almost perfectly, it is still faintly visible when you look closely. This is an unavoidable problem in the production process and is not a quality problem.